Post Production
Editing
Metahelion Digital's editing capabilities run the gamut from color correction and titles to complex storytelling. We utilize Final Cut Studio and edit in virtually any shooting format, from DV, all the way up to RED. View our Demo Reel.
Visual Effects
Stunning visual effects provided by Metahelion Digital come from Nathan Trebes, whose San Francisco Academy of Art training and years of project experience provide the professional effects your project needs. See examples of Nathan's VFX work below.

A VFX fire shot in Shake.

Same shot, completed.

A frame from Dark Destinies demonstrating the Lightsaber visual effect.
Graphic Design

Metahelion Digital provides graphic design services for a wide range of projects. You can see some examples of our graphic design right Here.
Digital Delivery

Metahelion Digital takes its namesake to mean a strong focus on digital content. As such, we can deliver in nearly any digital format, including DVD, iTunes and BluRay. We also have our own in house online HD video distribution solution, Metahelion TV.

Metahelion Digital content on Apple's iPhone 4. From Metahelion Digital on iTunes.
DVD Authoring

We utilize Nathan Trebes' DVD Studio Pro expertise to complete the DVD Authoring process. Metahelion also offers menu design and case design to complete the your project.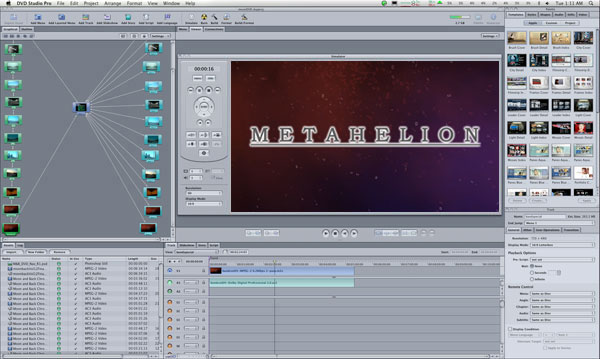 Web Design

Metahelion, working with its graphic designers and web masters can create the perfect site for you. We can create a home for your company, movie, show, family, or virtually anything. You can see some examples at our Web Design Showcase page.
For all projects, please see our Data Policy.