About Us / Contact
Welcome to Metahelion Digital.
Metahelion Digital is a full service digital movie production company. It was started by Nathan Trebes, an editor, and a video post production specialist. We are a collaboration of friends and colleagues that love what we do. Our experience ranges from small hometown projects to full blown music videos, films, documentaries, and more! The word Metahelion comes from the Greek word Helios, which is the sun or light. We capture light digitally, work with it after shooting, and make it our own. This is where the Greek word Meta comes in.
Contact Us:
e: info@metahelion.com
p: 646.535.META
Trusted Partners:
Metahelion works with a variety of partners in its creative team. Our most trusted partners are listed below.

Nathan Trebes is an Editor who specializes in a wide range of High Definition Post Production workflows and Web Design. Trebes' editing credits include seminars with Michael Gerber, Tony Robbins, Chet Holmes, and the Co Founder of Apple, Steve Wozniak. Trebes has edited numerous short films that have been screened in film festivals across the country. He graduated from the Academy Art University in 2007 where he received a BFA in Motion Pictures and Television, specializing in Film Editing.

Lloyd Minthorne wears many creative hats as a producer, engineer, musician and composer. His breadth of experience and expertise have led him to be called the Audio Wizard. Lloyd is also an accomplished video producer, cameraman and editor. When not busy working on a diverse variety of media projects, Lloyd can be found jammin' with his young son, Ryan, who plays a mean drums.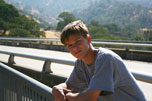 With eight years in the web design industry, Matthew Trevett uses creativity and ingenuity to promote intuitive web experiences of lightweight, scalable and powerful web-apps.  His programming philosophy advances cloud computing techniques in an attempt to promote the death of cluttery physical media and to provide freedom for open formats. Matthew's work in the realm of cinematography includes the use of high definition digital video tools, packing quality results.  When he isn't practicing  photography or operating live sound productions for charities, you can find him spending free time on the trails or at a campsite enjoying creation.